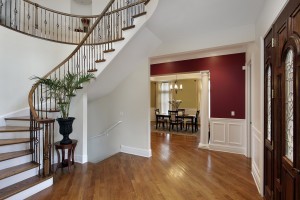 As soon as someone walks through the door of your home they get a sense of how you have created the space. Making sure that your home feels inviting is important for when guests come over or people enter your home.
It's also handy to understand how to make your home feel welcoming when it's ready to be sold. The task of making your home feel welcoming, comfortable and stylish can seem daunting, especially if you're in the  process of moving or starting over somewhere new. Even entertaining guests during busy times of the year can overshadow seeing the overall welcoming picture of your home. We have some tips for you to help you make sure that every person who walks through the doors of your home feels welcome and cozy inside its walls.
Start with the Entryway
The absolute first impression of your home that people get other than the outside appearance is that of the entryway. The minute people walk through the front door, they're getting a sense of your home and property. There's certain accessories that you can add for a simple touch that can make a big difference in the way your home is portrayed. Depending on how your entryway is set up, there are small pieces that you can use to give the entryway of your home an instant feeling of being inviting.
An example of an effective accessory would be a grandfather clock, which is stately and has a charming touch. A rug or succession of rugs also gives a sense of warmth and can add a lot to an entryway. This is particularly useful for homes in colder climates. It's also important to make practical use of mirrors and lighting in your home's entryway. If the entryway is a porch, a classic bench is a great piece to make visitors feel like they're right at home.
Entice the Senses
Once visitors get inside your home, there are several small ways that make an impact on how guests feel inside of your home. Candles are a small touch that work quite well. Since our senses help us make associations, candles with the scent of flowers, cookies, or even cinnamon are a great way to help visitors feel welcome. These scents are very much associated with the feeling of "home." Many times, it's effective to burn these types of candles while an open house is going on. The small touch helps to further entice interested buyers.
Keep Delicate Items To A Minimum
When you're in a museum or a china store, you often feel like you can't walk around because you're afraid of breaking something. While it's certainly acceptable to have nice things in your home, you don't want anyone walking around it to feel as if they're in a museum. Part of developing a welcoming feeling in your home is making sure people actually feel comfortable there. These are some thoughts on how to give your home an inviting touch. Now, over to you- what makes you feel welcome in a home?