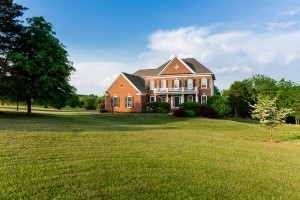 Curb appeal, aka the overall attractiveness of your house to prospective homebuyers, often plays an important role in the home selling process. For instance, a house with a neat, clean front lawn likely has greater curb appeal than a residence surrounded by an overgrown front lawn, and for good reason. As a home seller, you want your residence to sell as quickly as possible. And in order to accomplish this goal, you'll need to spend some time boosting your house's curb appeal to make your residence attractive to prospective homebuyers. Fortunately, there are many quick, simple ways to boost your home's curb appeal, including:
1. Focus on the Roof
Is your roof missing shingles? If so, you'll want to repair or replace defective shingles immediately, because failure to do so may lead homebuyers to consider alternatives. Also, don't forget to clean your roof if its shingles look dreary and streaked, as this can help you enhance your home's curb appeal instantly.
2. Spruce Up the Front Porch
Setting up a few plants on your front porch can help give your home a warm, inviting feel. Thus, when homebuyers pass by, plants may help draw attention to your house over others. Typically, colorful flowers are great for a front porch. These flowers are easy to set up in a porch container or window box and will enable you to add a splash of color to your home's front porch.
3. Open the Curtains
Give homebuyers a glimpse into your home's interior by keeping the curtains, shades or blinds open. By doing so, you'll be able to let light shine through your home during the day, and ultimately, boost your home's appearance to homebuyers as they pass by your residence. Of course, try to be consistent with your window treatments. And if you open the curtains for one window, be sure to open the curtains for all of them to give your home a uniform appearance.
4. Install Light Fixtures Around Your Lawn
Increasing your house's curb appeal during the day is great, but how can you ensure that homebuyers can get a better idea about the quality of your house at night? That's easy – install light fixtures around your lawn, and homebuyers should have no trouble viewing your home at any time. Lawn light fixtures usually can be installed in just minutes and are simple to use. Plus, these light fixtures allow you to showcase your house's landscaping, walking paths and other excellent attributes.
5. Consider the Homebuyer's Point of View
If you were a homebuyer, what would you say about your house's exterior? Considering the homebuyer's point of view is valuable and can help you better understand your home's strengths and weaknesses. Working with a real estate agent may enable you to identify and address homebuyers' needs as well. This professional will collaborate with you throughout the home selling process and can provide plenty of outstanding insights that you can use to improve your home's appearance without delay. Dedicate time and resources to enhance your house's curb appeal, and you should have no trouble generating interest in your residence as soon as it hits the real estate market.